Get Mesmerized by Over the Water Bungalows Close to Home
You don't have to go to Bora Bora or the Maldives anymore to experience over the water bungalows!  In late 2016, these magnificent vacation options became available in the Caribbean & Mexico. Ever since then they have been attracting tourists looking for a private and luxurious experience.  Over the water bungalows give you a first-hand experience to enjoy the beauty of the ocean, where you can just lounge on a chair and watch a stunning sunset without any chaos or commotion. Every room in the villa will guarantee you a breathtaking view each morning. Being this close to nature makes you realize the value of it even more. All you can hear and enjoy is the melodious sound of the waves with not even the slightest trace of pollution. The services in these villas are exceptional and you are never devoid of any luxury that you cannot access in a luxurious restaurant. You can enjoy some amazing authentic Caribbean cuisine with a breathtaking view for breakfast, lunch and dinner. It is a perfect romantic getaway where you can rekindle your romance or enjoy some quality time with your partner. The villas are becoming a favorite destination for couples (and even some families!).  Here are 3 of the over the water bungalows available in the Caribbean & Mexico
Sandals Royal Caribbean (Montego Bay, Jamaica)
Making their debut on December 1, 2016 Sandals Royal Caribbean in Montego Bay, Jamaica were the very first over the water bungalows in the Caribbean.  These amazing villas completely changed the game.  Included in the bungalows are floating decks with hammocks and chairs, soaking tubs outdoors, infinity pools and private water taxis.  The bungalow is just part of the experience.  The Sandals 5-star Luxury Included vacation is one that is sure to pamper you and make your honeymoon or romantic getaway one you won't soon forget.
El Dorado Palafitos (Maroma Beach, Mexico)
This adults only resort debuted their over the water bungalows at the end of 2016.  You can expect all of the perks- outdoor showers, 24-hour butler service, private infinity plunge pools and much more.  One distinct difference with these beautiful villas are the furnishings.  You can expect furnishings made from local Zapote woods with white granite and authentic prints and textures.
Sandals Grande St. Lucian (St. Lucia)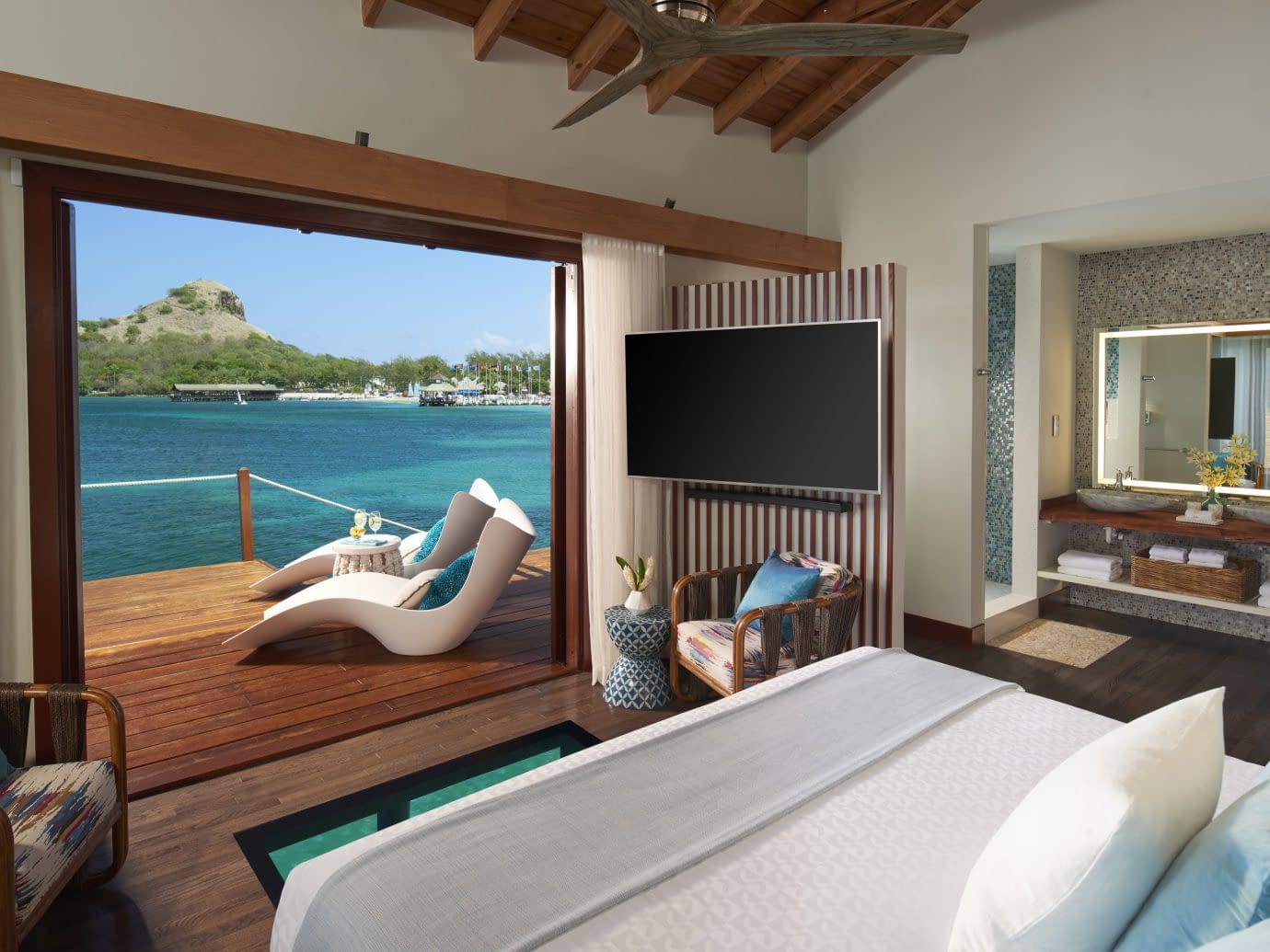 Out of the Hurricane belt is the beautiful island of St. Lucia.  St. Lucia is a popular destination for its breezy and almost always sunny conditions.  The second Sandals entry here Sandals Grande St. Lucian has just nine of these pristine over the water bungalows.  These amazing villas feature the standard Sandals experience- butler service & the Luxury included Sandals promise.  One of the perks of the Grande St. Lucian is that it shares a beach & amenities with Sandals Regency La Toc and Sandals Halcyon (that's if you ever want to leave your bungalow).
Over The Water Bungalows- A Life Changing Vacation Experience
Over the water bungalows in Mexico & the Caribbean are a great way to get a South Pacific experience closer to home. While they are more expensive than standard accommodations, they will certainly create a lifetime of memories for you and that special someone.  If you're ready to experience these amazing over the water bungalows, contact your travel advisor to go over the best options for you.